Historical Background
Shipwrecks
Shipwrecks are fascinating, from the Titanic to the many shipwrecks in our region. There have been many excavations in the past, but it is still possible to find shipwrecks that have remained undisturbed for centuries. Such shipwrecks can provide the marine archeologists with important information about the past. Thereby we can learn more about the maritime trade in Asia.
600 years of delayed sale !! Now Available for you
If we have information on when the ships capsized, then it is fairly easy to determine the age of the ceramic cargo found onboard. This is because the cargo is likely to be contemporary. Of course, cross-referencing the results of related shipwrecks will make the dating more precise. This is what the Asian Ceramic Research Organization says about it: "As time capsules, each with content deposited at a single moment in time, these are more valid as dating evidence than are decades of scholarly guesswork based on unprovenanced museum collections".
The Malaysian Waters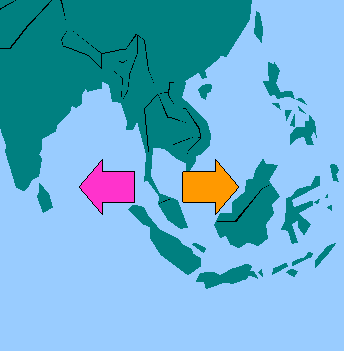 The Malay peninsula separates two primary networks of sailing routes. To the west lies the Indian Ocean, with routes extending from the western coast of the Malay peninsula to the shores of Africa, and to the east lies the South China Sea, with a network of routes connecting East and Southeast Asia. Each network depends on the regularity of its monsoon winds. In the South China Sea these winds blow from the north-east beginning in late November or early December until early March, and then from the opposite direction, the south-west, from the beginning of July through to about mid September.
Timing was important, as well as total voyage time. If a merchant from China wanted the first choice of goods from India, for instance, he had to wait in a port such as Melaka until the end of summer, having arrived himself in the spring. Passages from one network to the other required a stop of several months in Southeast Asia. The region reaped benefits from its geographical position in several ways. It sold its own products to both networks; its ports offered shipping services, warehousing and accommodation; it hosted markets; and its rulers found ways to tax both ships and merchants. Ships plying the major long-distance routes - 'the maritime Silk Road' - mingled with those involved in local and regional trade.
Shipwrecks from the 15th-16th centuries in Philippine and Indonesian waters, the Gulf of Thailand and all around the South China Sea provide evidence of vigorous regional trade and production. Manufacturers based in Southeast Asia broke a centuries-long Chinese monopoly in trade ceramics, perhaps with the help of disaffected businessmen from China's coastal provinces. It is believed that some Chinese entrepreneurs, instead of submitting to imperial orders against private overseas trade, moved to bases in Southeast Asia, and that some continued to supply smuggled goods from China.